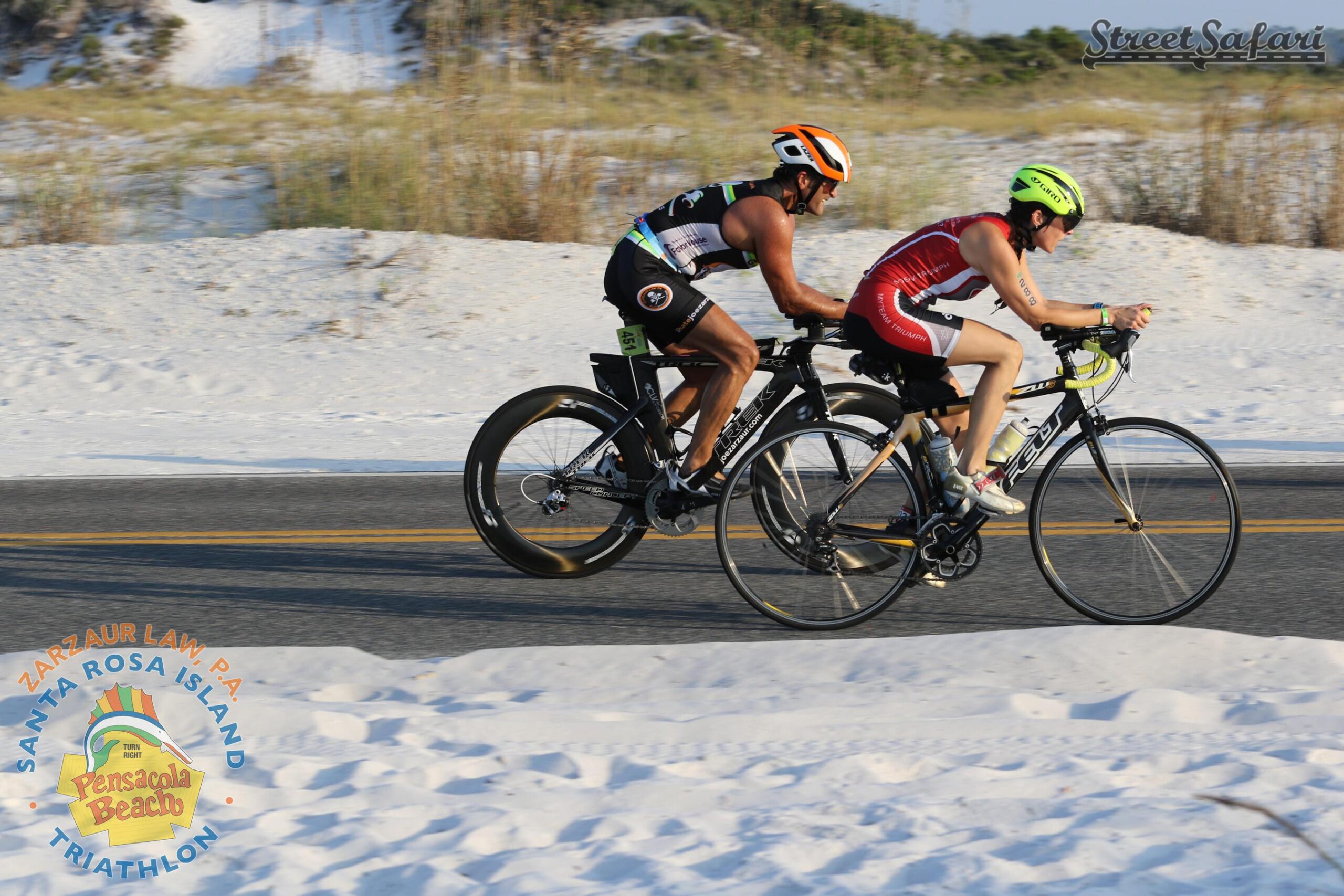 The 25th Annual Zarzaur Law Santa Rosa Island Triathlon is located on beautiful Pensacola Beach, Florida on October 2nd, 2021. This is a great destination sprint triathlon is for seasoned triathletes and new ones alike. Every athlete will be treated to a custom Headsweats® visor from the premiere sponsor Zarzaur Law as well as cool SWAG from our loyal sponsors.
This is a great destination race for the entire family.  This USAT sanctioned sprint distance triathlon features a flat and fast course.  The 600 yd swim is along the pristine shores of the Gulf of Mexico.  The bike is an out and back that traverses along the shores of the Pensacola Beach and the 5 kilometer run takes you through an idyllic beach neighborhood.
Athletes will be met at the finish line with a custom medal and chocolate milk from our refuel sponsor, The Florida Dairy Farmers. Beverages and post-race food from Sonny's and complimentary beer from Lewis Bear Company.
For 2021 we are offering a virtual race option for those unsure about in-person racing. The Virtual Zarzaur Law Santa Rosa Island Triathlon powered by Publix can be raced in your own backyard. Athletes will get the same athlete goodies and medal.
The Santa Rosa Island Triathlon could not be more honored to be named by Active.com one of the "Best Races In the World!
Santa Rosa Island Triathlon is produced by Give It A Tri, Inc. ("GIAT") which manages and executes multi-sport race events. The monies raised through sponsorship and race registration will be used to assist youth athletics with charitable donations and grants in Escambia and Santa Rosa counties. GIAT will concentrate its outreach to youth organizations that promote athletics in the area of swimming, biking, running, and multi-sport but not limited to these categories of organizations.
Contact:
Mindi Straw, Race Director
850-341-2207
santarosaislandtriathlon@gmail.com
santarosaislandtriathlon.com
History of the Race
The first race was on October 12, 1996.  Ann said "I hoped for 250 athletes and we had 450!" – this was just the beginning of many years of success as the race grew to over 1,300 athletes..  Despite some tough weather years the event continued to grow and triathletes from all over the United States flocked to Pensacola Beach to compete in one of "America's 100 must do races".
From its inception, a large portion of the profits have been donated to many projects on Pensacola Beach which included dune restoration, benches for trolley stops, bike racks around the island, playground equipment for the Beach School, bikes for the Beach Sheriff Department, surfboards and life preservers for the lifeguards, and sponsoring youth triathletes to attend USA Triathlon Training Camp as well as hosting a week-long triathlon program for under-privileged youth within the community.  The generous donations continue today to programs that support youth and adult athletic programs in the community.